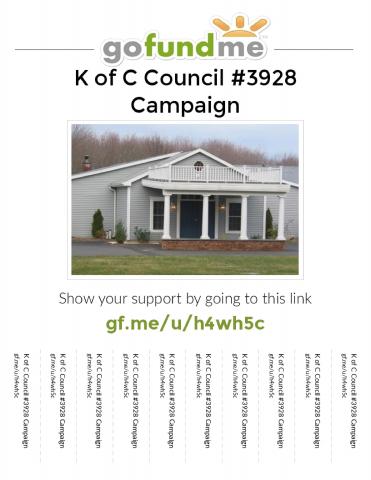 Our Knights of Columbus council in Guilford, Connecticut services the community through the use of a banquet-style hall used to host events for various organizations in the area. Such events include Red Cross blood drives, fish fries, and dinner dances that benefit many other local organizations. The organizations we have helped in the past couple of years alone include SARAH, KidsHUGS, Our Lady of Mercy School, Community Nursery School, Guilford Civic Women, Guilford Food Bank, Heart2Heart, Guilford Volunteer Fire Department, CFMS Fund, Carl's Crusaders, and Guilford Before and After School Care.

This building was erected in the late 1950's by members of the council who wanted a place to call home and be able to run events such as the ones listed above. They formed a not-for-profit corporation to own and operate the building. After over 60 years, this home has developed the need of some major repairs such as replacement of the roof and air conditioning system. The cost of these two repairs along with the recent replacement of the septic system exceeds $100,000. As members of the next generation of this council, we are asking for assistance so we can continue to offer this venue to support our community through the various events we host and run for many years to come.

We greatly appreciate any help you can provide so that we can continue to have a home to host events through which we can give back to the community.